Don't let mosquitoes ruin your outdoor fun, barbecue, or party! Some mosquitoes are capable of transmitting diseases such as malaria, yellow fever, dengue, filariasis, encephalitis, Western Equine encephalitis, LaCrosse encephalitis, Japanese encephalitis, Eastern Equine encephalitis and West Nile virus to humans and animals. Not only can mosquitoes become a health hazard to you and your family, but can become a general nuisance to keep you and your family from enjoying your property. Take back your property from pesky mosquitoes with the Modern Exterminating Company, Inc. Mosquito Reduction Program.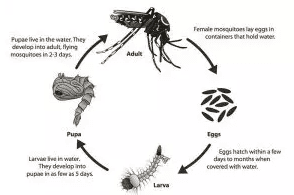 Our highly trained technicians will:
*Inspect the property for mosquito harborage areas such as birdbaths, clogged gutters, and standing water.
*Come up with a program specifically designed for you and your needs.
*Treat your property monthly from April to October.
If you are hosting a wedding, special event, or party, one-time mosquito services are available.