INDIANAPOLIS ─ April 12, 2017 ─ We've all been there before. Green detergents that don't actually get your clothes clean. Water-saving toilets that have to be flushed twice. Does the promise of green always come at the cost of compromise?
Not always. A growing number of green products actually equal or outperform less earth-friendly options. That's the case with the Sentricon® System, which is welcome relief to homeowners in every state (but Alaska) where hungry termites see your home as their next meal. Yes, the Sentricon System is a green product that works. Really works. The proof is the 60 published articles and the 2 million structures it's been selected to protect, including the White House and the Statue of Liberty.
The Sentricon System is the only pest control product ever to earn the Presidential Green Chemistry Challenge Award, an award presented by the U.S. Environmental Protection Agency (EPA). Unlike alternate methods of termite control that require digging a trench around the home and pumping hundreds of gallons of liquid chemical termiticide into the soil, Sentricon uses only a small amount of active ingredients in the bait stations. In fact, the bait used in Sentricon also was the first product registered by the EPA as a Reduced Risk Pesticide.
Developed through extensive research to take advantage of termite behavior, Sentricon targets and eliminates the whole termite colony. In-ground Sentricon stations are placed in a protective ring around your home. Termites eat the bait placed in the stations and share it with the rest of the colony, eventually eliminating the entire colony, including the termite queen, who can produce millions of eggs during her lifetime.
Termites are a serious problem, costing homeowners an estimated $5 billion per year.1 So it's nice to know that with technologies like the Sentricon System, you don't have to compromise between earth-friendly and effective.
About Dow AgroSciences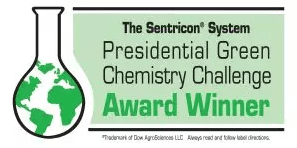 The Dow AgroSciences Urban Pest Management business is a leader in providing innovative solutions for the structural pest management, postharvest commodity and turf and ornamental market segments. Learn more about the Sentricon System and its Certified Sentricon Specialists at www.sentricon.com. Dow AgroSciences, based in Indianapolis, Indiana, USA, develops leading-edge crop protection and plant biotechnology solutions to meet the challenges of the growing world. Dow AgroSciences is a wholly owned subsidiary of The Dow Chemical Company and had annual global sales of $6.4 billion in 2012. Learn more at www.dowagro.com. Follow Dow AgroSciences on Facebook and YouTube.