Most Americans fear bedbugs but the majority can't identify one out of a lineup of other common insects, new research shows.
In a survey of U.S. travelers conducted by researchers at the University of Kentucky, 60 percent of participants said they would switch hotels if they found evidence of bedbugs in a guest room.
However, only 35 percent of business travelers and 28 percent of leisure travelers correctly identified a bedbug when looking at a group of similar small pests.

"Considering all the media attention paid to bedbugs in recent years, the fact that most travelers still have a poor understanding of them is troubling," said Michael Potter, Ph.D., extension professor in UK's Department of Entomology and co-author of the study.
The study, published in American Entomologist, the quarterly magazine of the Entomological Society of America, found bedbugs were a much bigger concern than other potential hygiene issues at a hotel. Less than a quarter of people surveyed said they would switch hotels for factors such as signs of smoking or dirty towels or linens.
The findings are particularly worrisome for the hotel industry, the researchers say, given the role that online reviews play when travelers are determining where to stay. More than half of the people surveyed said they'd be very unlikely to select a hotel with a single online report of bedbugs.
"The fact that there's a pretty obvious misunderstanding of what a bedbug looks, like much less what to do about it — a lot of these reports are anecdotal, unconfirmed and they may not even have a whole lot of relevance," Potter told CBS News.
For the report, the researchers surveyed nearly 2,000 business and leisure travelers from across the country.
The results also showed that the overwhelming majority (80 percent) said hotels should be required to tell guests if their room has had a prior problem with bedbugs. Forty-six percent said if a hotel were to proactively provide information on steps it takes to prevent bedbugs, they would choose to stay there and appreciate knowing about these measures. Twenty-four percent wanted hotels to "do it, but don't tell me."
How can you spot a bedbug?
Potter recommends that people familiarize themselves with images of bedbugs online so they know what they look like.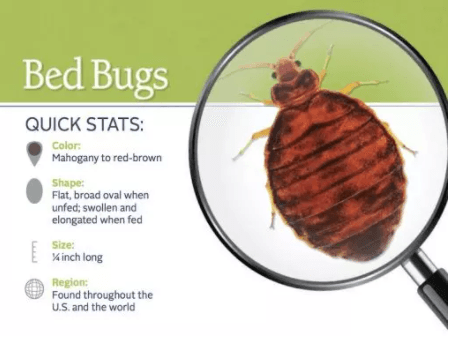 "An adult bedbug is about the size of a tick – small, brownish and flattened," he said. "But the immature [stage] of that bug, things we call nymphs, can be very tiny. A newly hatched nymph that comes out of an egg is not much bigger than the head of a pin."
If you can't see the bedbugs themselves, a telltale sign is the fecal spotting, which looks like "black speckly spots that they leave on mattresses and bed frames and other surfaces" Potter said.
He recommends doing a bed check upon checking into a new hotel room, especially at the head of the bed and in the seams of the mattress for signs of bedbugs.
What to do if you see bedbugs
If you think there is a problem with bedbugs at your hotel, alert the front desk immediately. You should be relocated to another room.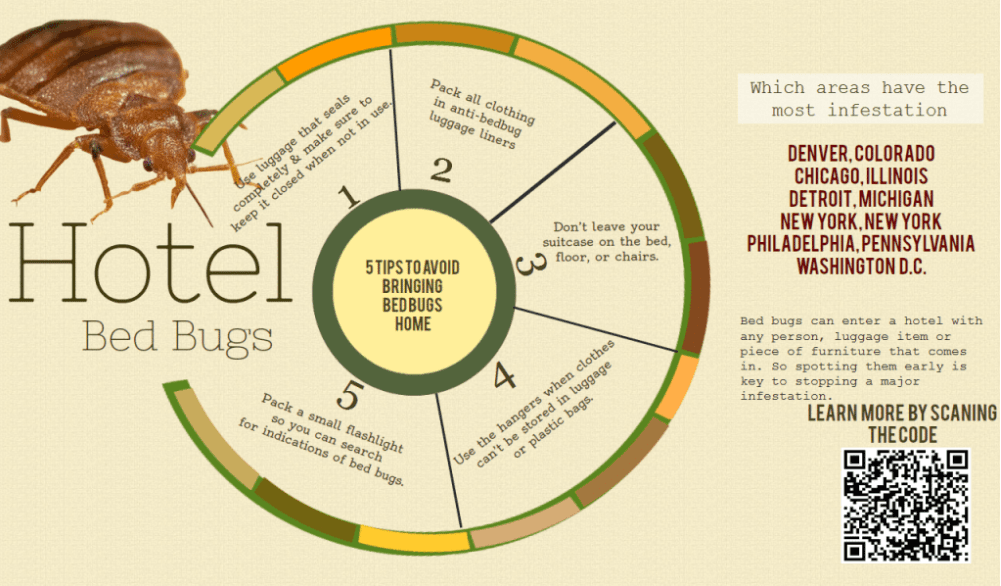 "It would be prudent to request a room further away than the one you're in because bugs do tend to move," Potter said.
From there, the question of how likely it is that bedbugs could have gotten into your clothes is complicated.
"It's not a certainty that you're going to transport bugs to the other room or bring them home with you," Potter said. "It's a function of how many bugs there were in the room initially and how open your things were."
As a precaution, he recommends not leaving your suitcase unzipped on the floor or bed, but rather zipped up on a hard surface, and avoiding spreading your belongings out all over the room.
If you think you may have picked up bedbugs in your clothes – and especially if you come home with itchy red welts – put all your clothes in a drier on high heat setting. "You can wash them before if you want, but the heat of the clothes drier will pretty much kill everything," Potter said.
Lessons for travelers and the hotel industry
The new report highlights that many U.S. travelers should try to better educate themselves about bedbugs, how to spot them, and precautionary measures they can take, the researchers say.
However, there are also important lessons for the hotel industry. "I think it really emphasizes that if they don't already have one, hotels need to develop some sort of reputation management plan to respond to reports of bedbugs," Potter said. "They ought to teach their housekeepers what to look for and their front desk people how to respond quickly and effectively when incidents arise."
Source: ASHLEY WELCH | CBS NEWS June 2017